We kicked back and took a slow ride through our 11th Anniversary.  With Katherine Elizabeth in the family, we stayed home and had a nice dinner and movie.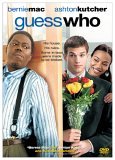 I picked up the romantic comedy, Guess Who, which stars Bernie Mac and Ashton Kutcher.  This movie is a good remake on the idea of Guess Who's Coming to Dinner
starring Sidney Poitier, Spencer Tracy, and Katherine Hepburn.  Karen and I enjoyed the movie.  I think Karen may have enjoyed the toffee popcorn and chocolate more.